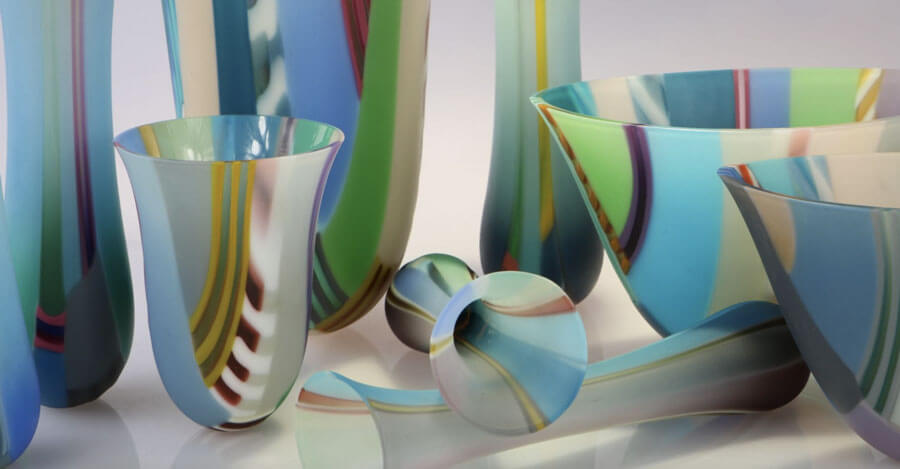 Ruth Shelley is a welsh glass artists who's beautiful work has captured our attention and stolen our hearts. Her vivid and fluid designs are inspired largely by the natural world and her background in textiles. ⁠With an impeccable eye for colour and form her vessels have been exhibited all over the nation. We reached out to Ruth find out where it all began and what's next on her horizon…

Hi Ruth, thanks so much for talking to us. We'd love to know a little bit more about you and your story, would you be able to tell us about how you became a glass artist? What was it that inspired you to begin?
Growing up in a home surrounded by handmade crafts, I was intrigued by patterns, shapes, and colours of the world around me. This led to my decision to study Woven Textiles at Art School, before eventually travelling to South-East Asia over a period of two years, researching ikat fabric.
Returning home with my head full of colour inspiration and designs, I stumbled on a course in Stained Glass and, as soon as I started working with the medium, it was love and first touch! I realised then that my background in colour and design, suddenly made sense. The light reflecting on the glass touched me and made my heart sing. I had found my next career path.
We find your move from textiles into glass fascinating, how does your work in the textile industry influence your glass work today?
After leaving college, I started my own knitting business which was more accessible than setting up a weaving studio. As I could knit from the age of three, it seemed a logical step. In more recent years, I've been able to bring my old knitwear designs to life in glass. It has been fun to realise the versatility of one craft with another.
I won the main Glass Sellers Prize at the British Glass Biennale in 2015 with my vessel called 'Indian Intarsia' which was based on a memory of ladies in colourful saris, at the Ganges bathing Ghats, Benares India.
Later I realised I could replicate the designs of rugs I'd collected during my travels in the design of my vessels. An example of this, 'Metamorphosis', was shown in the British Glass Biennale exhibition in 2017. It is based on a rug from Baluchistan. Each knot was painstakingly recorded and I then cut and balanced tiny pieces of glass to represent each knot and then fused and shaped in the kiln to make the vessel.
The Kiln Formed Glass method you use to create your vessels is more unusual than the well-known glass blowing method. Why do you opt for this style and what do you love about it?
There are many ways of working with glass. Stained Glass does not involve the use of heat, as the coloured glass is cut cold and designed to make a window with individual pieces joined with lead cane or copper foil. I use the Warm or Kiln Formed glass method where I cut the glass cold, heat it in the kiln to fuse, and manipulate it in the kiln. With Glass Blowing the glass is heated in a furnace and then formed by blowing air into the glass to shape it.
Kiln forming gives a much greater possibility of versatility, especially in the use of precise pattern and colour, which is important in my art form. I am fascinated and love the flow of glass when heated, especially as gravity is introduced. My inquisitive mind and imagination pushed me forward and I am always experimenting. This has been an ongoing fascination for over ten years with the endless possibilities still exciting me daily as I push the limits and possibilities of stretching and observing the flow of glass of various thicknesses, forms, and colours. I can 'hide' colours within the glass which are only revealed when it is stretched by heat and gravity.
Recently I have been collaborating on a project with a glass blower to develop a new way of joint working, although we still have a few technical issues to overcome!
What does a typical day of work look like for you?
I start each day with a focus on my soul, my body and my brain. It gears me up for the day, although there isn't a typical working day. I also find that keeping a detailed diary of work needed for upcoming gallery exhibitions is the most important task. From there I prioritise and organise my work accordingly, and as each fusing process takes at least 24 hours in the kiln, each vessel can be planned well ahead of time.
Other aspects of the work include ordering glass, making sure all my colours are topped up, designing and cutting the glass (which is the best part in my opinion), preparing and loading the kilns, and cold-working, which is grinding, sandblasting the glass. Every few weeks, I photograph my work which takes a whole day, but is an increasingly important part of what I do. Administrative tasks take up more and more of my time, so prioritising and keeping a clear head for the creative side is my most important task.
Your surrounding landscape and your travels seem to inspire your work greatly. If you could go anywhere in the world on a research trip where would you go and why?
My current number one place for a research trip would be Uzbekistan. I'm very interested in the Celts and whether there is any evidence that they travelled the Silk Road, as I feel there are many similarities in some designs. I'd love to visit the architecture in Samarkand, Amir Timur Museum in Tashkent, the colourful silk weaving workshops in Khiva, and the Silk and Spice festival in Bukhara.
I first discovered your beautiful work at London Glassblowing's summer exhibition, do you have any other exhibitions on the horizon?
I will be exhibiting in these upcoming exhibitions in the next couple of months:
New Brewery Arts, Cirencester
London Glassblowing
Design Hub, Sleaford
Steam Gallery, Beer, (Devon)
Roger Billcliffe Gallery, Glasgow
Annan Gallery, Glasgow
Crafts in the Bay, Cardiff
Of all your works, which has been your favourite collection or creation to date?
I have two favourites:
'Rug Textiles' because textiles still excite me.
'Peace of Mwnt' I've camped at Mwnt Bay in West Wales each summer for the past 25 years and am inspired by new colours that stand out each time I visit. I feel a very strong sense of belonging there. The Welsh word is 'Cynefin'
Your design style is bold, colourful, and graphic, yet always appears effortlessly elegant, tell us, what's your secret?
Colour and pattern are an integral part of my life. I live and breathe it and I guess it just transpires into my work.
If a student wanted to enter the field, what advice would you give to them?
Do not give up!
Expect disappointments and learn from them. They generally provide a platform to new ideas!
Find your own unique voice in your artform.
As we approach the end of the year can you tell us some of your 2022 highlights?
One of my highlights for 2022 was that I managed to figure out the technical issues of my water feature experiment. I've been working on the design for over a year! The glass part came quickly, but the technical aspect of the water feature provided me with quite a few challenges, which I'm pleased to say, I've now overcome.
Also, I was chosen to exhibit in the Art Exhibition in the National Eisteddfod in Wales this year, which was a great honour. My work was the only glass exhibit chosen and the work sold.
And lastly, I'm currently waiting for the kiln to cool down sufficiently to view the largest vessel made to date. There are a few stages left before completion but it's an exciting day and all has gone well so far! Photos will be on social media in due course!
What's next for Ruth Shelley glass?
I will have a solo exhibition in Craft in the Bay in Cardiff in March exhibiting my new Water Feature and, possibly, a research trip to Uzbekistan?!!